Where Sissy encountered a kindred spirit
From among the many figures that came to form part of the Serra de Tramuntana landscape, one of the most colourful has to be Archduke Ludwig Salvator. One of his nieces describes him thus: "He lives like a peasant, just wearing sandals and loose fabric trousers. His sunburnt skin is reddish copper. He works endlessly in his idyllic garden and splendid vineyards."
Ludwig Salvator certainly had an unconventional lifestyle for an aristocrat of the time. A Mallorcan family of noble birth invited him to dinner one day, warning him that he should dress as befitted his rank. They were much surprised when he turned up in his archduke's uniform. Indeed, the hosts were very pleased until the time came for the soup to be served, when Ludwig Salvator poured it into his pockets to the diners' stupefaction, standing up and proclaiming: "You have invited my garments, not me. Now my garments have dined and I may go."
He could even be said to be a forerunner of the hippies, were it not for his meticulous research work, culminating in an ethnological treatise on the Balearics that has acted as a reference for historians through to the present day, produced with the help of a team of artists and assistants.
Entranced by the Serra de Tramuntana's beauty, he became the owner and custodian of a large part of the north coast between Deià and Valldemossa. The Serra de Tramuntana corresponded by acting as a refuge for him, far from the protocol and ceremonial acts to which he was subject when he lived in the Austro-Hungarian Empire, ruled by his relative the Emperor, a Hapsburg like him.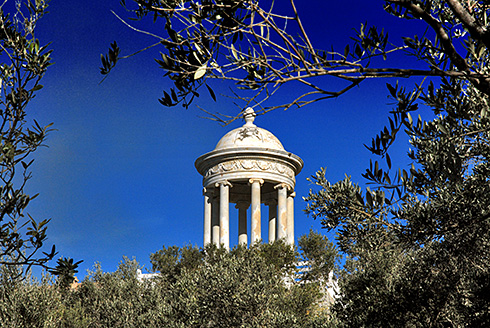 A little temple at Son Marroig © Photo: Gabriel Lacomba
Ludwig Salvator, the Hapsburg archduke, founded an empire of simple pleasures in Mallorca
It was because he stood out as being different that he became a confidant and good friend of another member of the Hapsburg family, Empress Elisabeth, known as Sissy. She came to visit Ludwig Salvator on three occasions, generally incognito. It was in the late 19th century. On one of her stays, she visited S'Estaca, today owned by Michael Douglas and Catherine Zeta-Jones. There she met the Archduke's sweetheart, Catalina Homar: a Mallorcan girl of humble origins who must have had as much charisma as the surrounding landscape. A witness describes a meeting between the Austrian Emperor's wife and the young carpenter's daughter from a family of Mallorcan peasants: "Both women conversed as if they had always known each other."
Sissy explored some of the Serra de Tramuntana's paths that now form part of its network of hiking routes, and, with Ludwig Salvator at her side, she dreamed of that freedom of spirit that the Serra de Tramuntana manages to transmit. Sometimes she accompanied the Archduke to a social event at Palma's Casal Solleric, without giving her real name.
The vineyards mentioned above, where Ludwig Salvator was so content to work, produced wines that had quite a few ardent devotees. Produced under Catalina Homar's highly capable supervision, S'Estaca's Muscatel and Malvasia wines were singled out for awards at exhibitions in Barcelona, Madrid, Paris and even Chicago. Perhaps they were somehow infused with the magic of the Tramuntana mountains; that same magic that had captivated an Archduke evading his social responsibilities and an Empress who came to find peace in the Mediterranean. Both historical figures managed to escape history's pages for a while and enjoy the pleasures of a simple life, like the beauty of a landscape such as this, conceived to inspire dreams.
Text by Thomas Fitzner
Translated by Rachel Waters
Did you know that...
One of the Archduke's secretaries helped to publicize Mallorca.

In the early 20th century, Archduke Ludwig Salvator hired a young Austrian by the name of Erwin Hubert to transform his awful handwritten manuscripts into legible documents. He later found out that his new secretary also had a gift for drawing and painting. When the First World War broke out, Ludwig Salvator and his retinue sought refuge in Austro-Hungary, where he died in 1915. When the war ended, Hubert returned to Mallorca and triumphed as a painter. He became a much sought after portrait artist, although his landscapes became even more widely known. For many years they were used by Foment del Turisme, a local body for the promotion of tourism, to publicize the island. Hubert felt specially attached to Sóller. When, in 1947, an exhibition of his work was inaugurated there, trains were specially scheduled for the purpose to carry those attending it to the capital of the Tramuntana. The Archduke's former secretary and illustrator died in 1963 in Palma at the age of 80.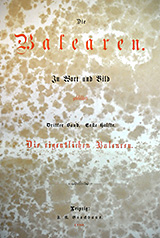 An endless library

The Archduke used to document his travels with the precision of a scientist and diligence of an artist. He hired numerous experts and illustrators to help create his books, publishing limited editions of about 600 to 800 copies, which were then sent as gifts to relatives, friends, and scholars. Among the dozens of books that he wrote, his major work has to be Die Balearen. In Wort und Bild geschildert. This offers a magnificent, in-depth description of the Balearics as they were in the late 19th century. Olañeta (a Palma publishers) brought out a modern edition in Spanish.
As for the Archduke himself, numerous authors have tried to portray this emblematical figure in print. One leading expert on the subject is Helga Schwendinger, an Austrian historian who published a biography in 1991 (Erzherzog Ludwig Salvator. Der Wissenschaftler aus dem Kaiserhaus, Amalthea Vienna/Munich, 1991). She is currently supervising the 'Nixe III' project: a documented recreation of the Archduke's Mediterranean travels.
Serra de Tamuntana Consortium
Contact
General Riera, 113, Palma
(+34) 971 219 735
serradetramuntana@conselldemallorca.net