Smugglers' hidey-holes
"The complicity of all the local population in the business is amazing, from the highest to the lowest classes. People who wouldn't dream of taking another's straw do not think twice about encouraging smuggling." Once again, these are the words of Archduke Ludwig Salvator of Austria, providing invaluable information about Mallorcan events and the local people. Indeed, it is nothing new to say that, for at least the last two centuries, smuggling has been regarded as a popular activity and not as an offence or, at bare minimum, it has been tolerated. Even today, when people talk about it, even if it is just to recall an anecdote, it is done with a smile midway between complicity and admiration. It might be an exaggeration to say that smuggling is part of our idiosyncratic nature as islanders, but it is fairly accurate to say that it was a regular activity for very many Mallorcan families for decades.
How this kind of trade functions is neither new and nor are we discovering it now. An activity that entails importing goods illegally into Mallorca (that is, without paying custom's duties, in order to sell them subsequently on the black market), it is a clandestine method of conning the State. For some it was an offence, for others a quick way to get rich, and for most a way of supplementing a lowly wage and helping the domestic economy. All kinds of goods were smuggled, although the most common were tobacco, coffee, and sugar in this order. Whisky, gin, bars of soap, electrical appliances, TV sets, mechanical parts and even whole motorbikes were also smuggled though.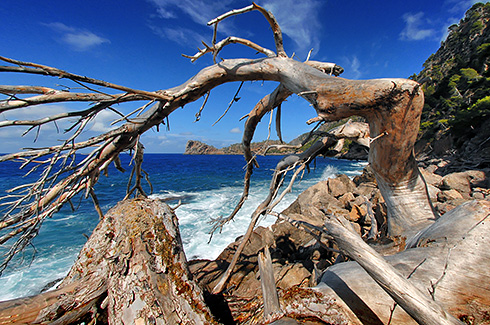 Near Na Foradada, where a great deal of smuggling went on © Photo: Gabriel Lacomba
The Quarter dels Carabineros, a barracks built to combat smuggling, built on land made available by financier Joan March
Given its physical geography, the Tramuntana coast was a good place for smuggling, although the activity was not exclusive to these mountains. Quite the opposite. Other places in Mallorca, especially the south coast, have also been used for smuggling, probably more frequently and as a gateway for greater amounts of goods.
The process was always the same. Boats reached the Mallorcan coast from ports like Gibraltar, Algiers, Tangiers and Oran, where their bultos (as the packages of contraband goods were known) were unloaded at night in isolated, lonely spots.
Sometimes a coastal point was sought where the falutx (a lateen-rigged boat) could come right up to the shore and the goods could be directly unloaded. This is the case of Es Canyaret, a place between Port de Valldemossa and Port des Canonge. It was more common to find a sheltered stretch of coast where the goods could be unloaded from a bigger vessel to smaller ones. Along the Serra de Tramuntana coast, the most common place was the enchanting Na Foradada.
When they reached the coast, the packages were stored in hiding places known by only a few people involved in the business. These hidey-holes were known as secrets. The goods were left there for a few days or however long was necessary, until the best, safest moment to sell them was found.
Smuggling activities have left numerous marks on the Serra de Tramuntana's landscape in the form of hiding places, paths, toponyms and buildings. The most striking visible legacy of the golden age of smuggling, which lasted from the first half of the 20th century through to the mid 1960s, can be found in the municipality of Escorca at Es Cosconar rural estate. We are talking about the Quarter dels Carrabiners or Els Carabineros, as it is known colloquially: a two-storey barracks, currently in the process of restoration. It was built in 1924 on land made available by financier Joan March; a great historical paradox. Its mission was to control and prevent smuggling in the area.
Whatever the case, times have changed. Smugglers today are no longer those almost legendary figures who knew all the coastline's secrets and who supplied coffee, tobacco and sugar to a society for whom hunger was no stranger. Now coffee is bad for you, smoking has been prohibited, and society suffers from obesity.
Text by Bartomeu Homar
Translated by Rachel Waters
Did you know that...
Until the mid 1940s, goods reached Mallorca on board falutxos or barques de mitjana (wooden boats rigged with a lateen sail). They were gradually replaced by powerful motorboats, although we know that in the 1940s in Port des Canonge, for instance, big cargos continued to be carried by falutxos. After the Second World War, the motorboats used for smuggling were former Royal Navy coastguard boats that had been auctioned off. The sailing boats' replacement with powerful motorboats did not occur to any great extent until the mid 1940s.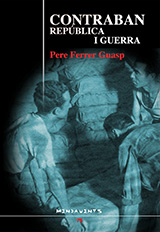 Contraban, República i Guerra
Historian Pere Ferrer offers a well-documented history of smuggling in Mallorca during the first half of the 20th century. In particular, it focuses on the time of the Second Republic and the Spanish Civil War and connections with smuggling and smugglers. It is full of documentary information, combined with anecdotes that help make it a fascinating read.
Author: Pere Ferrer Guasp
Published by: Documenta Balear
Published in: 2008
Serra de Tamuntana Consortium
Contact
General Riera, 113, Palma
(+34) 971 219 735
serradetramuntana@conselldemallorca.net