S'Estaca, a place of mariners
Everyone in Mallorca knows S'Estaca to be the island home of North-American actor Michael Douglas, shared with his ex-wife Diandra. Fewer people are aware that S'Estaca was the rural estate 'given' by Archduke Ludwig Salvator to his Mallorcan sweetheart Catalina Homar. Even fewer identify S'Estaca with a fishing hamlet where Mallorca's finest and bravest fishermen were based (once again in the Archduke's words).
S'Estaca is thus a small coastal hamlet in the municipality of Valldemossa, halfway between Sa Foradada and Port de Valldemossa, made up of some twenty little dwellings originally used by Valldemossa's fishermen as places to shelter during their arduous work. Now there are no fishermen or mariners left there, but S'Estaca is definitely one of the most beautiful, evocative, magical places in the whole of the Serra de Tramuntana.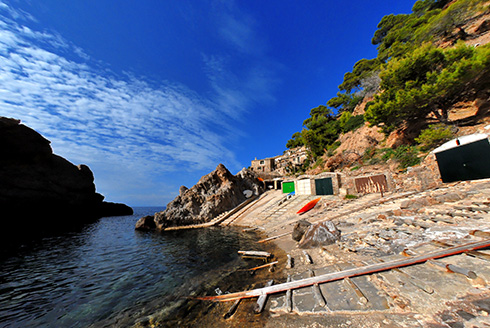 The little cove at S'Estaca, partly sheltered by rocks © Photo: Gabriel Lacomba
Nowadays the little fishermen's houses have been turned into weekend or holiday hideaways by their owners or users, but concealed behind the charming picture that they make are numerous human tales, filled with joy and sadness and, above all, with personal experiences.
In his major work Die Balearen, Archduke Ludwig Salvator describes the S'Estaca that he came to know in the second half of the 19th century, when it was a fishing hamlet composed of 14 dwellings whose construction he himself had authorized. He also adds that he ensured improved access to the cove to make it easier for people to travel to and fro, especially when laden with baskets of fish ready for sale.
In those days, some of Valldemossa's fishermen kept their boats at S'Estaca and others at Sa Marina (the local name for Port de Valldemossa). Life could not have been easy and the fishermen spent the whole week at S'Estaca, returning to Valldemossa on Saturday, either at midday or in the afternoon. They spent Sunday in the village, going back to S'Estaca in the evening or in the early hours of Monday morning with clothes to last them for the week and the necessary food supplies.
They worked the hardest in the summer months. The fishermen set sail from S'Estaca or Port de Valldemossa, travelling to the bays of Pollença and Alcudia to fish. They used a lateen sail to power the boats, rowing them when the wind dropped. They travelled in groups of five or six llaüts (small wooden boats), kitting out huts in a cove to stay there at night. The Archduke claimed that "they lead a free, happy life", although we do not know the fishermen's opinion on the matter. Every so often, a boat would take all the fish caught by the fleet to Alcudia or Pollença to sell it.
Others sailed westward toward Andratx, Peguera and Santa Ponça. They fished in the same way and their catch was taken to Palma by cart or stagecoach. A large part of the summer was spent like this, through to mid August. Sa Marina's patron saint's day is August 15th (the Assumption of the Blessed Virgin Mary), and none of the fishermen could miss it. They returned home to Valldemossa to attend the festivities with their families. A few days later, they went back to their boats and carried on fishing as usual. In some cases, depending on the success and size of the catch, the ones fishing in the bay of Alcudia moved on to Cala Rajada, carrying on down the coast and alternating days spent fishing with others spent sailing until they reached the south of Mallorca. From there, they passed Cap Blanc, crossed the bay of Palma and reached the west coast, passing the straits of Sa Dragonera and returning to the coast of Valldemossa.
When the first storms broke in September, the fishermen stayed at S'Estaca and Sa Marina. The bad weather meant that fewer days were spent fishing. Indeed, in winter they scarcely fished. When they were unable to put out to sea, the fishermen offered their services on land and worked in the vineyards of S'Estaca, where first-rate wine was produced.
That, however, is another story.
Text by Bartomeu Homar
Translated by Rachel Waters
Did you know that...
Storms from the north and northwest are especially bad at S'Estaca. The waves often reach the houses, sometimes with such force that they have even caused serious damage. Sebastià Juan, a Valldemossa fisherman with first-hand experience of fishing life at S'Estaca when he was a child, still remembers what happened one night when he was staying in one of the little dwellings there with his father and uncle and they were warming themselves at the fire. A storm was raging out at sea, and it was so bad that a wave came rushing across the rocks, up onto the roof and down the chimney into the fire, putting it out and plunging the fishermen into darkness. Sebastià, who was just a little boy, recalls that they decided to go back to Valldemossa that same night, since it was too dangerous to stay at S'Estaca.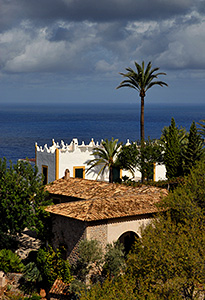 ...and a home for actors
The current buildings of the rural estate of the same name are a privileged home for actor Michael Douglas. This is no longer a secret and we often hear S'Estaca spoken about as if it were yet another Beverly Hills mansion. The star of Wall Street is not the first actor to have fallen in love with the area. Long before him, a home-grown actor, Xesc Forteza, had a local hideaway there in one of the fishermen's houses at S'Estaca, where he used to spend his time reading, writing plays and, more particularly, devoting himself to his main hobby (theatre was his passion): fishing.
Serra de Tamuntana Consortium
Contact
General Riera, 113, Palma
(+34) 971 219 735
serradetramuntana@conselldemallorca.net