Robert Creeley in Banyalbufar
Numerous writers from all over the world have settled in the Serra de Tramuntana. The best-known case is that of Robert Graves, given his importance as a writer and his close links with the island. Graves lived in Deià, where he wrote a substantial amount of his poetry and narrative work. Nonetheless, the case of Robert Graves is not unique. One way or another, writers from all over the world have found somewhere special there to spend a few days' holiday or a certain period of their lives, set up a studio to write, or seek refuge from the world. Agatha Christie and Formentor or Rubén Darío and Valldemossa are examples of names that are now intrinsically linked.
Some lesser-known writers, whose careers and literary work are unquestionably worthy of merit, have attracted less attention. This is the case of Robert Creeley, who lived in Banyalbufar from 1952 to 1955.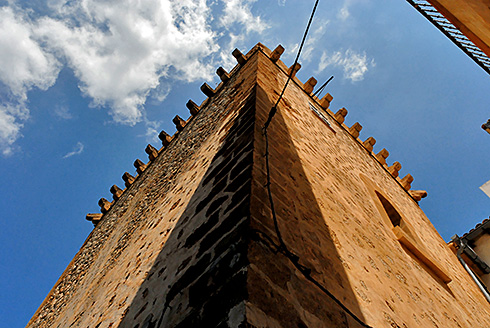 Interior de l'Hostal Baronia © Foto: Gabriel Lacomba
"What a deep pleasure it now is to see, in that very language I could then only hear as fascinating sounds, the words I wrote those years ago in that dear place given such substance here! I learned so much in Mallorca, not only of my art but also of my life and what world I might hope to find. 'I come from Mallorca,' in that sense forever," wrote Creeley in the introduction to the compilation of his Mallorcan work, published by the Consell de Mallorca in 2002
But who was Robert Creeley?
Born on May 21st 1926 in the city of Arlington, Massachusetts (USA), Creeley died in Odessa (Texas) on March 30th 2005. He is known for his poetry, although he also wrote prose and even engaged in publishing activities. He was a lecturer in humanities and literature at Buffalo University (New York) and Brown University in Providence (Rhode Island). As a poet, he is associated with Black Mountain, a college of art and humanities. Although the college was forced to close, it inspired an artistic movement of the same name. As well as Black Mountain, Creeley's name is also associated with that of Allen Ginsberg, Jack Kerouac and Jackson Pollock, with whom he was friends.
He came to Mallorca in 1952 on the advice of the British poet Martin Seymour-Smith, with whom he corresponded. Creeley was attracted by the tranquillity that the island exuded and, above all, by the low cost of living for a North American. He made this very clear: "In the early 50s, one might live there, it seemed, on almost nothing - although that 'nothing' was often a good deal more than what any of our local friends had as provision. But for ourselves it was a place where so many of the usual dilemmas were for once absent. It was also so beautiful, so transformingly wondrous in its insistent physical presence."
His stay in Mallorca was not as idyllic as one might think. His relationship with his wife, Ann McKinnon (who, by the way, was the one who had the money that they lived on) was breaking up by then, and they ended up by separating. "I lost one 'self' and found another in those years, lost the family I had thought to cherish, the only world that seemed at all mine," Robert Creeley explained years later.
Of the three years that he lived in Mallorca, the American poet spent the first two in Banyalbufar, in a small apartment in Sa Baronia, and the last year, when he was divorced, in La Bonanova, which was then a well-defined area separate from Palma.
During his Mallorcan period, Robert Creeley wrote numerous poems and some narrative work, which the Consell de Mallorca published in a bilingual volume in 2001 entitled Escrit a Mallorca: poemes i relats or Written in Mallorca: Poems and Stories. He also founded the publishing venture Divers Press in Mallorca, together with the magazine The Black Mountain, which featured work by numerous authors associated with the movement. Lastly, 'Mallorcan paternity' can also be attributed to the novel The island (L'illa), even though it was not written in the Balearics. In it, Creeley describes his years in Mallorca and his break-up with Ann McKinnon.
As an essayist, narrative writer, publisher and, above all, poet, Robert Creeley has left a strong mark on 20th century North-American literature. A tiny piece of the Serra de Tramuntana is no doubt contained in this legacy.
Text by Bartomeu Homar
Translated by Rachel Waters
Did you know that...
Robert Creeley published his first poem at the age of about 20 in Harvard's Wake magazine. From then on until his death in 2005, he published over 60 books of poetry. He is considered to be one of the leading components of Black Mountain: an artistic movement that spread throughout the States after the 2nd World War in reaction to formal literary conventions. It had a huge influence on literature and artistic creation in the second half of the 20th century, particularly on underground and countercultural movements.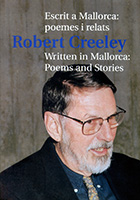 Escrit a Mallorca: poemes i relats
A compilation of everything that Robert Creeley wrote during the years that he lived in Mallorca: three stories (The Boat, A Death and The Dress) and some fifty poems. It contains the original version in English and a translation into Catalan, rounded off by a critical analysis by Kevin Power and introduction by Creeley, which he wrote four years before his death.
Author: Robert Creeley
Published by: Consell de Mallorca
Published in: 2002
Serra de Tamuntana Consortium
Contact
General Riera, 113, Palma
(+34) 971 219 735
serradetramuntana@conselldemallorca.net