Ufos in the Serra de Tramuntana?
One of the Serra de Tramuntana's attractions is its abundance of legends and mysteries. One such mystery that comes up from time to time concerns 'unidentified flying objects' or UFOs. Hence in addition to the Serra de Tramuntana's rich natural, archaeological, ethnological, cultural and anthropological heritage, we must also add its UFO heritage.
Whether you are sceptical or a believer, many UFO experts regard the Serra de Tramuntana to be what they call a 'window area'; that is a place with a high concentration of sightings, reports of sightings, or possible ones. It should also be noted that this 'window area' comprises the area between Deià and Sa Calobra, with its epicentre in the vicinity of Puig Major.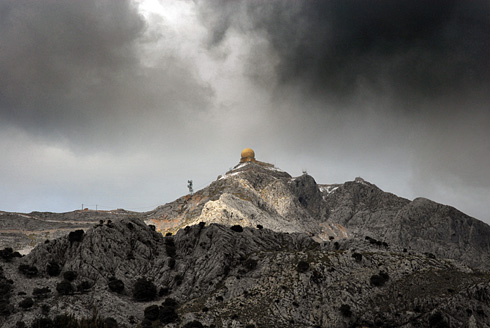 Puig Major military base © Photo: Gabriel Lacomba
A supposed UFO base on the seabed opposite Cala Tuent is one theory explored by certain researchers and UFO experts
So is this part of the Serra de Tramuntana really a hotspot for UFO sightings? If we heed newspaper cuttings, it is clearly a place that attracts the curious and those interested in this kind of story. There are also many widely assorted stories on the subject. Are they true though? You will all have to decide for yourselves.
From people who have been kidnapped (now we know that the proper expression is 'to be abducted') and carried on board futuristic high-tech spaceships for a few hours to mere visions of coloured lights moving at incredible speeds, all kinds of anecdotes can be heard of differing levels of credibility.
One such story is the underwater UFO base at Cala Tuent. There is not much information on the subject, merely that a few miles out to sea opposite Cala Tuent, at the foot of Puig Mayor, there is a UFO base on the seabed. There are few witnesses and they are rather unsubstantial. There is talk of some fishermen who saw luminous objects coming out of the sea in the 1970s, but no one knows the identity of the fishermen and no official document of any kind has been conserved. Some hikers also claim they saw lights emerging from the sea. Additionally 'experts' have also situated the UFO underwater base as being in front of Sa Foradada peninsula, off the Deià coast.
The Serra de Tramuntana also plays a minor role in the most famous UFO case in Spain: the Manises case. To summarize, it involved a plane that took off from Son Sant Joan Airport on November 11th 1979 on its way to Tenerife but was forced to make an emergency landing at Manises Airport in Valencia when a luminous object came speeding toward it. The event made a big impact and one Socialist MP (the current Ombudsman, Enrique Múgica) even asked a question about it in the Spanish Parliament. In the early hours of November 12th, a Mallorcan UFO expert, Pepe Climent, took some photos of UFOs close to Fornalutx. The photos were finally requisitioned by the army at Puig Major. Was the photographed UFO the same one that had forced the aircraft to land the previous day? We will never know. Recent research has clarified the mystery, it seems, by attributing the luminous objects seen by the pilot to an optical effect produced by thermal inversion and the chimneys of the Cartagena refinery reflected in the sky.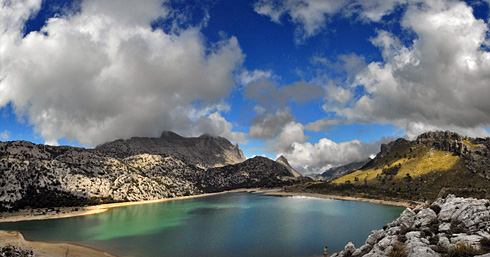 Cúber reservoir © Foto: Gabriel Lacomba
The UFO phenomenon in the Serra de Tramuntana saw its moment of glory one year before that, in June 1978. At that time, a group of people in Sóller were very keen on such matters. They were so active that they got almost 6,000 people (according to newspapers back then) to spend the night of June 12th between Mirador de les Barques vantage point and Cúber plain. The plan was to make contact with extraterrestrials intending to communicate with man that same day at the foot of Puig Major. Apparently, there was little contact, with outer space at least.
In the spring of the same year, Steven Spielberg's Close Encounters of the Third Kind had been shown for the first time in Palma's cinemas. Is there any connection between a marketing ploy for the film and success in the 'cosmic' mobilization of so many people? We will never know. Or maybe we will.
Text de Bartomeu Homar
Translated by Rachel Waters
Did you know that...
According to some researchers, a mysterious triangle links the sacred mountain of Montserrat in Catalonia with the Sóller coast and the island of Ibiza, causing inexplicable events, more or less in the style of the Bermuda triangle (although as far as we know, no ship or plane has mysteriously disappeared as yet).
People say – or remarks were made a few years ago – that ships' sonar equipment goes mad when the vessels come within two miles of Port de Sóller. Yet another mystery.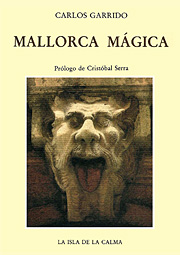 Mallorca mágica
In this popular book, writer and journalist Carlos Garrido compiles a whole series of ancient and more contemporary legends, traditions and popular beliefs, all associated with mysteries and magic. He devotes a chapter to UFOs, but he also talks about legends and beliefs concerning mountains like Es Teix and Puig de Galatzó. A good read for all, whether sceptics or believers.

Author: Carlos Garrido
Published by: José J. de Olañeta
Published in: 1988
Serra de Tamuntana Consortium
Contact
General Riera, 113, Palma
(+34) 971 219 735
serradetramuntana@conselldemallorca.net