Watchtowers
One of the most widely publicized photos of Mallorca for tourists is Torre des Verger, in Banyalbufar, more commonly known by the albeit wrong name of Torre de ses Ànimes, while the people of Banyalbufar just call it Sa Torreta.
This watchtower once formed part of an extensive surveillance network that covered the entire perimeter of Mallorca, so that the whole island could be alerted in the event of a threat of some kind from the sea.
Most of the watchtowers date back to the 16th century, although a system of sentries and scouts existed before they were built. The sentries kept watch (of a mainly visual kind) during the day, while the scouts were on duty at night, when they had to listen out for any noise that might warn them of an approaching vessel: the noise of oars, a flapping sail, sailors' voices, etc.
The sentries kept watch on high parts of the coastline with panoramic views of a long stretch of coast, at strategic points where they had visual contact with their neighbouring sentry. It was the sentries' job to alert people of the arrival of enemy ships, pirates and Barbary corsairs, together with any vessel that might bring a contagious illness of some kind to Mallorca.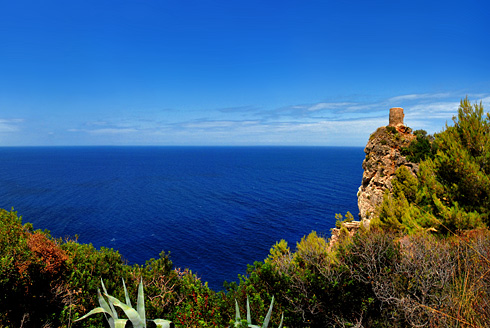 Torre del Verger in Banyalbufar © Photo: Gabriel Lacomba
Sentries often failed to turn up, preferring to work as day labourers at neighbouring rural estates
In the 16th century, pirate attacks on coastal towns and villages reached a peak. Numerous historical records of these attacks on towns and villages like Andratx, Estellencs, Banyalbufar, Port del Canonge, Valldemossa, Deià, Sóller and Pollença can be found. As a result, a decision was taken to improve the surveillance system, and the construction of a series of fortified towers began, equipped with weapons, at most points where sentries had already been posted.
Joan Binimelis, a multifaceted doctor, historian, astronomer and priest, promoted the construction of these towers, organizing a system of smoke signals during the day and fires at night. With it, neighbouring watchtowers could be alerted, and the information was passed from tower to tower to the Almudaina in Palma.
History books also contain numerous reports of disputes and problems concerning compliance with sentry duty. This was not only performed bythe townsfolk and villagers along the coast, but also by the inhabitants of neighbouring and not-so-neighbouring towns. For instance, sentry duty had to be performed or at least paid for in Banyalbufar and Estellencs, and also by the townspeople of Esporles, Puigpunyent, Santa Maria, Santa Eugènia and Algaida.
Sentries often failed to turn up for duty. It should be remembered that if a day's agricultural work was missed, a family might go hungry. One temporary solution was the watchtower sentries' professionalization, because, in time, they took advantage of long periods spent at the watchtower to work as day labourers for neighbouring rural estates or to do odd jobs to complement their wages.
In the 18th century, the Ordenanses de les torres de foch del Recna was published. Among many other things, this decree established the watchtower sentries' obligations, stipulating that it was forbidden for them to leave the tower. It also contained a whole series of rules to ensure surveillance of the coast.
France's conquest of North Africa in the 1830s put an end to the activities of Barbary corsairs, and the watchtowers were gradually used less and less, except occasionally to control smuggling and also during the two World Wars and Spanish Civil War.
A series of watchtowers can still be seen along the Serra de Tramuntana coast, some fortified and others simply observation points. From Torre de Cala in Basset to Talaia d'Albercutx in Pollença, some twenty towers can be found, all constituting invaluable items of historical, architectural and ethnological heritage.
Towers like Torre Picada in Sóller, Torre de na Seca, Torre de Tuent, Torre Nova and Torre del Verger, mentioned earlier, are all a legacy of bygone times, when our great great grandparents lived. It is up to us whether these towers are given a new life, depending on how interested we are in our historical heritage and in our ability to see them as genuine monuments, rather than mere piles of stone.
Text by Bartomeu Homar
Translated by Rachel Waters
Did you know that...
Torre del Verger in Banyalbufar, known in tourist guides as Torre de ses Ànimes, was owned by Archduke Ludwig Salvator. When he bought it, he also wanted to purchase a small pine-grove that separated the tower from the existing road in the late 19th century, since the pine-grove had to be crossed to get to his new tower. The pinewood belonged to an elderly villager from Banyalbufar, who definitely did not want to sell it.
A few years later, he fell off the top of the tower, which was interpreted by his son as a punishment for not having wanted to sell the pinewood to the Archduke. In the end, Ludwig Salvator was able to buy it from the old man's heir.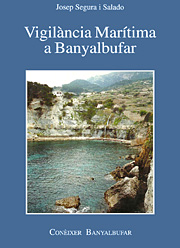 Vigilància marítima a Banyalbufar
Although this book really focuses on Banyalbufar's towers and its surveillance systems, it offers a very precise insight into the problems faced by sentries, together with the lives they led, and disputes that arose concerning sentry duty.
It also contains substantial information about Torre del Verger, probably Mallorca's best-known watchtower.
Author: Josep Segura i Salado
Published by: Associació cultural Bany-Al-Bahar
Published in: 1998

Serra de Tamuntana Consortium
Contact
General Riera, 113, Palma
(+34) 971 219 735
serradetramuntana@conselldemallorca.net