'La Serra' by Joan Alcover
In 1905, Joan Alcover won the Flor Natural prize in the Barcelona Jocs Florals Literary Awards for his poem "La Serra". That same year, his son Pere died of typhus. Years earlier, his wife and one of his daughters had also died. Those losses changed the writer forever, explaining why he is known as the poet of sorrow. From then on, Alcover took refuge in poetry, leaving behind a more light-hearted period and becoming synonymous as a poet with sincerity.
Alcover found symbolic correspondences between the Mallorcan landscape and his state of mind, through nostalgic memories of rural life. These memories are, nonetheless, combined with his own subjective vision or delusions, since it should not be forgotten that Alcover was from Palma. He was not born in the country. "La Serra" is a defence of country life by a city dweller. In the poem, we realize that the writer is looking through a window of his house in the Calatrava district, where he recalls a country song that was sung to him when he was little.
«Copeo, copeo, copeo traïdor: Copeo, copeo, treacherous copeo
roseta encarnada, pink little rose,
si t'he agraviada if I have offended you
jo et deman perdó...» I beg your pardon.
Translator's note: a 'copeo' is a popular Mallorcan dance.
Alcover feels that the song has been carried across to him from the Serra de Tramuntana, whose mountains he can see in the distance and which he knows from visits that he made with his family as a child to Son Martí rural estate in Capdellà. "La Serra" offers a global vision of Mallorcan rural life. It portrays a lively, well-populated landscape, filled with characters. Through the window, Alcover can only see the lights of little lamps flickering in the mountains, and he wonders what life is like there for people. He goes on to give a description, concluding by extolling country life and considering that landscape to be his homeland.
For Alcover, art was utilitarian. The function of poetry was to benefit the poet, people, and art itself. In his case, it served to relieve his sorrow, although he once claimed "I have no preference for sorrow as a source of inspiration; it is sorrow that has shown a preference for me."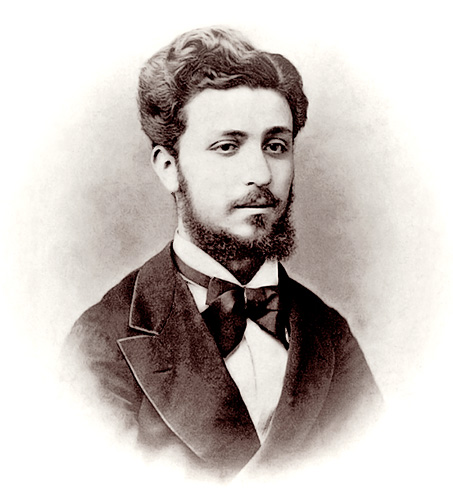 Joan Alcover, 1874. Biblioteca Alemany
"La Serra" is a defence of rural life by a city dweller
On March 6th 1919, Alcover was struck by another disaster of devastating proportions. On the same day his daughter Maria and son Gaietà both died, the victims of a flu epidemic. The former died in Mallorca and the latter in Barcelona. On one same night, death carried away their two souls. Alcover was once again left grief stricken and bereft.
Months later, as a sign of gratitude to the poet, Palma City Council notified him that it intended to erect a monument dedicated to his person. When Alcover found out, he was categorically against the idea. The project went ahead, however, with an enthusiastic response by the Mallorcan people, who helped to meet its cost through donations. The monument, which pays tribute to the poem "La Serra", features a fountain designed by architect Guillem Forteza, with a bronze sculpture above it by Esteve Monegal that represents the female figure from the poem. Work on the site where it is located took longer than anticipated and Alcover was not able to see the finished tribute to him by the Mallorcan people. On the night of February 25th 1926, Joan Alcover died of pneumonia. Two years later, Monegal's sculpture was inaugurated in the Palma square Plaça de la Reina.
Today the monument to Alcover's poem goes unnoticed by many citizens. Those who do visit it, attracted by its little garden, tend to be tourists. Thanks to the shade of its trees and the water that gushes forth from the fountain, it is a small oasis where people can revive their flagging spirits. A tiny piece of nature in a city full of fumes and noise, it is a little bit of "La Serra" brought to Palma.
Text by Alícia Vicens
Translated by Rachel Waters
---
Did you know that...
La Balanguera is one of the first poems that Alcover wrote in Catalan. The poet recited it for the first time at a lunch attended by Mallorcan intellectuals in Palma's Gran Hotel. Miquel dels Sants Oliver and Gabriel Alomar said that it was the finest piece he had so far written. Among Alcover's correspondence, a letter was found where he confesses to a friend that the poem was not as good as they said. Despite this, in 1996 La Balanguera was declared Mallorca's official anthem by the Consell Insular. The best-known version is that of Maria del Mar Bonet, although Chenoa has also sung it.
Serra de Tamuntana Consortium
Contact
General Riera, 113, Palma
(+34) 971 219 735
serradetramuntana@conselldemallorca.net