The Pollença school of painting
The Serra de Tramuntana's scenery is more than just a tourism asset for the island. It is also a superb source of artistic inspiration, insofar as art can be inspired. Painters of all nationalities have come to live in the Serra de Tramuntana's towns and villages, captivated by its beauty and air of mystery. In the early 20th century, several Catalan Modernist painters were bewitched by its alluring landscapes. One of the first was Hermen Anglada-Camarasa (Barcelona, 1871-Port de Pollença, 1959), who settled in Pollença from 1914 onward, after several years' hard work and success in Paris. Anglada-Camarasa was accompanied by his brilliant pupil, Argentinean painter Tito Cittadini (Buenos Aires, 1886-Pollença, 1960). Together they formed what is known as the Pollença School of Painting, later joined by the Pollença painter Dionís Bennàssar (Pollença, 1904-1967).
Hermen Anglada-Camarasa knew Santiago Rusiñol (Barcelona, 1861-Aranjuez, 1931) and Joaquim Mir (Barcelona, 1873-1940) from the period when he had been in contact with painters associated with Els Quatre Gats in Barcelona. Both the latter travelled to Mallorca in the late 19th century, where they were fascinated by the Serra de Tramuntana. Rusiñol's first trip to Mallorca was in 1893. Following their initial visit, they often came to stay on the island. Among other places, Rusiñol stayed in Pollença, Cala de Sant Vicenç, Valldemossa and the El Terreno district of Palma. Joaquim Mir accompanied Rusiñol to Mallorca in 1899 and it made such an impression on him that he decided to live at Sa Calobra until 1903, when he had a nervous breakdown and was admitted to a psychiatric hospital in Reus. In 1902, Rusiñol and Mir were commissioned with a series of panels for the Modernist Gran Hotel in Palma, designed by Catalan architect Lluís Domènech i Montaner. As models for the panels, they chose different landscapes of the Serra de Tramuntana: views of Pollença, Cala de Sant Vicenç, Castell del Rei etc. The relationship between the two painters was very tense, mainly due to Joaquim Mir's complex character. He was a solitary, forceful, surly artist who had already got into trouble, a year earlier, with the locals at Sa Calobra due to rivalries over a woman. They burnt one of his paintings and he was forced to take to the mountains and hide there for a few days.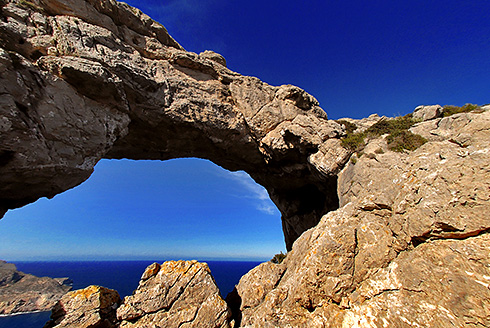 Cavall Bernat is a chain of mountains separating Cala de Sant Vicenç from Cala Bóquer. Right at the top is the hole Forat Gran © Photo: Gabriel Lacomba
Influenced by his maestro yet characterized by a personal sense of aesthetics, Cittadini headed what was known as the Pollença School of Painting together with Anglada-Camarasa
During his years in Mallorca, Anglada-Camarasa used to make trips to places close to Pollença to sketch or photograph the little spots, orchards, rustic buildings, spectacularly shaped trees or natural caves that inspired almost all his work from 1914 onward. He also began to make boat trips so that he could observe the seabed, using a glass visor, which enabled him to create a series of paintings of fish, underwater plants and whimsically shaped rocks. During the Spanish Civil War, he fled the island and sought refuge at Montserrat Monastery. After a few years in exile, he returned to Mallorca in 1947, where he lived until his death. Most of his work can today be seen at Palma's CaixaForum, in the building of the former Gran Hotel.
Such was Anglada-Camarasa's popularity in Paris, where he lived from 1894 to 1914, that he had many pupils. One star pupil was the Argentinean Tito Cittadini, the son of a journalist who had emigrated from Italy. Cittadini accompanied Anglada when he moved to Pollença. Influenced by his maestro yet characterized by a personal sense of aesthetics, Cittadini headed what was known as the Pollença School of Painting together with Anglada-Camarasa, although the Argentinean always disagreed with the name. Mallorcan landscapes, people and customs are the themes of most of his work.
The third painter traditionally associated with the Pollença School was Pollença-born Dionís Bennàssar. Younger than his maestros and friends Cittadini and Anglada-Camarasa, most of Bennàssar's work also comprises rural landscapes, seascapes, and scenes depicting local customs, although he also worked on a more personal theme: scenes from mythology, caricatures and portraits. A very popular character in Pollença, he livened conversations at Bar Jume until his premature death. Most of his work can today be found at the Casa Museu Dionís Bennàssar, the painter's former home where he spent half his life.
Text by Jordi Martí
Translated by Rachel Waters
Did you know that...
Sa Fortalesa, situated on a headland called Punta de l'Avançada in the bay of Pollença, was built in 1628. The decision to build a fortress was made after an attack on Port de Pollença by Saracens, led by pirate Dragut in 1550. In the mid 19th century, it was abandoned by the army. Argentinean painter Roberto Ramaugé bought the headland in 1919, adding guest buildings and creating magnificent gardens, surrounded by pines, together with a stairway leading to the seashore and to some vantage points.

Ramaugé transformed Sa Fortalesa into a place visited by artists, poets and musicians, including Anglada-Camarasa, Rusiñol, Tito Cittadini, Joaquim Mir, and Andrés Segovia. Adán Dile stayed there on different occasions. In the 1920s, parties were held there, attended by guests in evening dress, amazing the local fishermen with their opulent appearance.
Numerous publications can be found on the subject of Hermen Anglada-Camarasa. Two publications by Francesc Fontbona and Francesc Miralles are particularly worthy of mention. They are Anglada-Camarasa (Polígrafa, Barcelona, 1981) and Anglada-Camarasa. Dibujos. Catálogo razonado (Mediterrània, Barcelona, 2006). Also of note is the catalogue for the permanent exhibition of Anglada-Camarasa's work at CaixaForum in Palma, entitled El món d'Anglada-Camarasa (Palma, 2006).

In the case of Tito Cittadini, mention must be made of a book by Catalina Cantarellas entitled Assaig per a una recuperació crítica del pintor Tito Cittadini (1886-1960), published by Ajuntament de Palma and Museu de Mallorca in 1983. Invaluable information can also be found in Pintores argentinos en Mallorca (1900-1939), by Francisca Lladó, published in Palma in 2006..

References to Joaquim Mir can be found in the Guide to the Museu Nacional d'Art de Catalunya, coordinated by Montserrat Gumà, Barcelona, 2004.
Serra de Tamuntana Consortium
Contact
General Riera, 113, Palma
(+34) 971 219 735
serradetramuntana@conselldemallorca.net