Winter in Mallorca
Fryderyk Chopin was so ill that he asked his doctors for their opinion and, as you know, one tends to get it right, two contradict each other, and the third kills you. The first doctor told him that, with that cough, it was a wonder that he was alive, the second that he was dying, and the third that he was already dead. To tell the truth, the Polish musician did not die in Mallorca during the winter of 1838-39. The 'poet of the piano', as he was named, passed away ten years later in Paris, having left instructions for his heart to be removed in case he came to life again inside the grave. Hence his body can be found at Père-Lachaise cemetery in Paris, while his heart was taken to the Church of the Holy Cross in Warsaw. That, however, is another story.
The mountains of the Serra de Tramuntana bore living witness to the notes of a piano played in a cell at Valldemossa Monastery. That is where the famous couple, Chopin (1810-1849) and George Sand (the literary pseudonym for Aurore Dupin) stayed. The French writer (1804-1876) was also a friend of musician Franz Liszt, painter Eugène Delacroix and writers Alfred de Musset, Heinrich Heine, Victor Hugo, Honoré de Balzac, Jules Verne and Gustave Flaubert.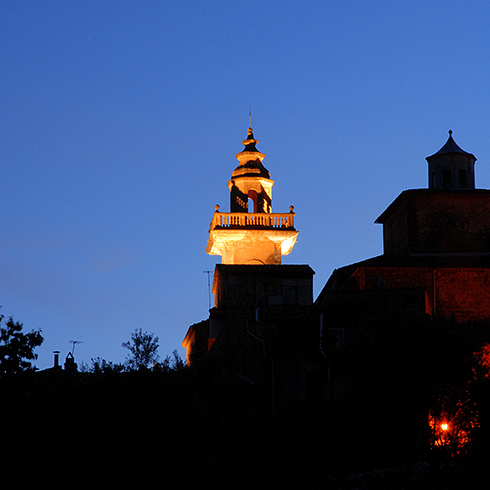 The bell tower of Sant Bartomeu Church in the parish of Valldemossa © Photo: Gabriel Lacomba
"I will very probably go to stay at an enchanting charterhouse in the most beautiful country in the world; sea, mountains, palm trees, a cemetery, a church dating back to the Crusades, a ruined mosque, ancient olives...!" (Chopin)
In the port of Palma's register, the arrival of four passengers is documented on November 8th 1838: Chopin and Sand, together with the children from her first marriage, Maurice and Solange. They came to Mallorca in search of a warmer, better winter than in Paris. Maurice, who was 15 and suffered from a rheumatic illness, was the excuse for the trip south. His mother had known Chopin for a short time and she invited him to get away from the Paris salons and stresses of a busy social life, planning a stay with her that would inspire the Muses and be beneficially creative. They expected their stay to be a long one and so, before he left, Chopin asked the piano maker Pleyel to send one of his pianos to Mallorca. The piano failed to arrive and the musician wrote "My piano has not arrived yet. How did you send it? Via Marseille or Perpignan? I think music but I cannot make any, because there are no pianos here."
The Pleyel piano finally arrived but it was too late, just a few days before Chopin and George Sand left Mallorca, because their stay in paradise had to be cut short. In the first letters that the writer and the musician sent to their friends, nothing points to the fact that the trip would be a disaster, as Sand's later memoirs Winter in Majorca state.
"Majorca is the painter's El dorado. [...]. Simple, calm Majorca is a green Switzerland beneath a Calabrian sky, and with the silent solemnity of the Orient." (George Sand).
"Here we are in Palma, in the midst of palms, cedars, aloes, oranges, lemons, figs and pomegranates; trees that the Jardin des Plantes only has thanks to its heaters. The sky is turquoise blue, the sea azure, the mountains are emerald green. And the air? The air is as pure as that of Paradise. All day long the sun shines, and it is warm, and everybody wears summer clothes. At night one hears guitars and serenades for hours and hours. The houses have huge balconies, from which vine tendrils hang, and their walls date back to the Arabs... the city, and everything here, is reminiscent of Africa... In a word, a delicious life!" (Chopin).
Maurice was well but Chopin became increasingly worse. Hence on February 13th 1939, the steamship "El Mallorquín" left Palma for Barcelona, as always, with a big cargo of pigs and four passengers as excess cargo. "It is pleasant to watch with what tender solitude these gentlemen (I am not referring to the passengers) are treated on board, and how affectionately they are put ashore," wrote Sand in her memoirs Winter in Majorca.
Text by Cesc Mulet
Translated by Rachel Waters
Did you know that...
It was in Mallorca that Chopin composed most of his 24 opus 28 preludes. They are short untitled compositions, with the exception of no. 15, known as Raindrop. George Sand's book describes its composition to perfection. "That evening's prelude was full of raindrops beating on the Charterhouse roof, but they were transformed by his imagination and singing gift into tears falling on the heart." In the film Dreams (1990) by Akira Kurosawa, Prelude no. 15 can be heard during the fragment 'Crows', dedicated to the final days of the painter Van Gogh.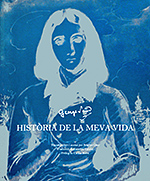 Story of my life
This book by George Sand, published in English as Story of My Life, is her foremost autobiographical work. In it, in a very subtle yet precise way and with a magnificent, exuberant use of language, she offers information ranging from her family background to her vision of writing, with all sorts of digressions, criticisms, commentaries, reflections, details of engagements, travel descriptions, portrayals of people, friendships and loves, recipes etc. In its pages, she combines her private life with her literary one, and her ideas with her obsessions.
Author: George Sand
Serra de Tamuntana Consortium
Contact
General Riera, 113, Palma
(+34) 971 219 735
serradetramuntana@conselldemallorca.net