Hermits in the Serra de Tramuntana
Since time immemorial the Serra de Tramuntana has stood out as a place with a deep sense of spirituality. It was here that the island's oldest religious Talayotic shrines were found, in Almallutx in the municipality of Escorca. This religious tradition has persisted throughout history. The Serra de Tramuntana was a favourite choice for numerous hermits in search of a life of prayer and seclusion, far from society. In the case of the Serra, hermit life seems to have been concentrated around Valldemossa.
In this part of the Serra de Tramuntana, Mallorcan hermits found the silent refuge that early Christian hermits first sought in Egypt's deserts and later in other places, like woods, or more eccentric ones, like the tops of trees or columns, as chosen by stylites, who were capable of spending years there without coming down.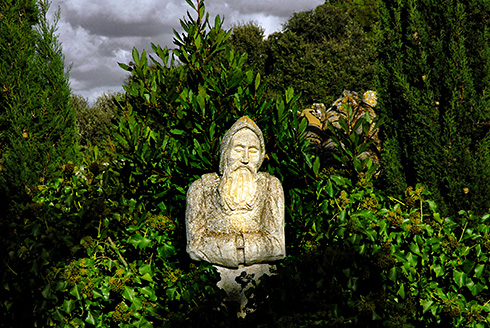 Portrait of the venerable hermit Joan Mir de la Concepció © Photo: Gabriel Lacomba
The Serra de Tramuntana was a favourite choice for numerous hermits in search of a life of prayer and seclusion, far from society
Ramon Llull was the first to promote a hermit's life from his base at Miramar Monastery. Even though he only spent two years there, he managed to attract a whole series of followers, who continued his work in different parts of the area, both at the monastery itself and at small primitive hermitages today known as "Ses Ermites Velles" or in areas close to Es Teix mountain. They are all situated in settings where even today you feel a close proximity to nature, where it is easy to be captivated by the sound of the wind in the trees or by thunder echoing between the walls of the mountains. They are places that continue to transmit a strong sense of spirituality. Combined with a profound religious faith, it can make them compelling places of worship where one can enter into contact with divinity.

The ruins of the old hermitage of Saint Paul and Saint Anthony (Ses Ermites Velles) in the middle of a wood © Photo: Gabriel Lacomba
In addition to Ramon Llull, numerous other people helped to promote hermitism in the area. Antonio Castañeda, a soldier in the army of King Carlos I of Spain, abandoned military life to devote himself to religion, living in a cave close to Na Foradada. His spirituality and attitude left a strong mark on the local population, serving as an example to certain people when deciding whether to devote themselves to a religious life. Another person worthy of mention is Catalina Tomás. In those days, she was a young 15 year old, on whom Son Gallard hermitage made a big impression when she was dispensing charity there. Another hermit of fundamental importance to the island's spiritual life was Juan Mir i Vallés from Alaró, the founder of today's La Trinitat hermitage in Valldemossa, dedicated to Saint Paul and Saint Anthony, which once again boosted hermit life in Mallorca.
Strangely, even today, traces can be discovered of modern anchorites who set off to the Serra de Tramuntana mountains in search of the peace they craved, although on many occasions they were not spurred on by a religious impulse but simply by a spiritual one. One example of this kind of hermit - featured in Mallorca Mágica, a book by Carlos Garrido based on a 1970s report by Suso Rosselló in the newspaper Baleares - is a man who spent long periods on Galatzó, where he studied and experienced currents of energy there. He claimed that "Galatzó has two completely different faces or slopes in terms of its magnetic or radioelectrical properties. These radiations - I have experienced this personally - affect one's personality and cause depression; a strange depression that cannot be cured by going down the mountain. To get rid of it, you must go up to the top and descend the south side. Then the angst disappears."
Text by Dídac Ruiz Coll
Translated by Rachel Waters
Did you know that...
Climbing up toward the peak Puig Caragolí from Coll de Son Gallard, you can still visit the cave where 'hermit Guillem' lived. What is surprising is how carefully it has been tended, with a little kitchen garden, tools and the hermit's furniture, and so it should be carefully respected by visitors.

Hermit Guillem, the protagonist of many local legends, brought his way of understanding life to this little corner of the mountain. He died in 1635 in Palma's General Hospital, far from his private refuge excavated in the rock, where he was in close contact with the mountains.
Different authors have explored the subject of hermit life on Mallorca. Many of them pay special attention to the figure of Juan Mir i Vallés. A good example is Ermitaños de Mallorca: Juan Mir y su obra by Antonio Gili i Ferrer, published in 1988. The link between hermits and Valldemossa is so strong that numerous references can also be found to hermits in history books about the municipality, like that of historian Juan Muntaner Bujosa, written in conjunction with José Francisco Argente Sánchez and entitled Introducción a la Historia de Valldemosa, published by Ayuntamiento de Valldemosa and Caixa d'Estalvis de les Balears "Sa Nostra" in Mallorca in 1980.

José María Sevilla Marcos, an expert on Ramon Llull, deals with the subject in El que sé de Miramar, in issue no. 43 of Publicacions del Centre d'Estudis Teològics de Mallorca (2009), and, more particularly, in another article entitled "Los ermitaños de Miramar, su trascendencia en la historia", both of which can be found online. There are also recent examples of fascinating articles in the press, for instance one published in the newspaper Diario de Mallorca (18-9-10) by Bonifacio Morlada Pradas entitled "Ermitans de Mallorca. Cercadors de Déu".
Serra de Tamuntana Consortium
Contact
General Riera, 113, Palma
(+34) 971 219 735
serradetramuntana@conselldemallorca.net