Lichen gatherers: the forerunners of climbing in the Serra de Tramuntana
For rock climbing enthusiasts, the Serra de Tramunana's rocky crags are ideal for lots of different climbing activities, like the latest ropeless one over water, known as deep water soloing.
Years ago people also used to climb the Serra's coastal cliffs, not as a challenge, search for adventure or bid to excel but as a financial activity, harvesting a type of lichen called Roccella phycopsis. This lichen, which can be found all over the Mediterranean and Atlantic coasts, lives on north-facing vertical rock walls, taking advantage of the constant humidity and necessary mineral salts to grow; a process that takes about six years until it achieves its full size. If you then want new leaves to grow, you must not pull out the roots but leave the base that it uses to stick to the rock.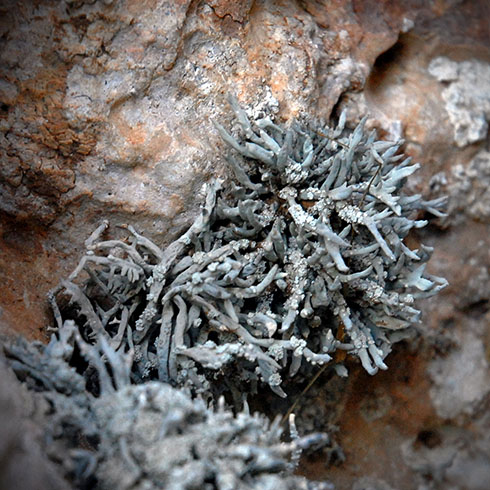 Lichen is a symbiotic organism, made up of a fungus and an alga. Roccella lichen is long, similar in shape to a head of hair. After the summer, it acquires this greyish colour. © Photos: Gabriel Lacomba
Chemistry laboratories obtain litmus, used as a pH indicator, from this lichen (Roccella phycopsis). During the Middle Ages, roccella lichen was highly valued for the purple colorant that could be obtained from it, used to dye the tunics of the Kingdom of Mallorca's councillors and magistrates
In the Middle Ages, lichen gatherers set off in search of roccella lichen along Sa Dragonera, Formentor or Pollença's shadier cliffs. With the aid of ropes, they slid down rocks or crossed dangerous passes, sometimes risking their lives. A 1334 document from Pollença's History Archives describes an accident that befell a lichen gatherer: "Francesc Sereni fell headlong while he was gathering lichen on the cliffs by the old watchtower, near the mountains of Sant Vicenç farmstead." Such was the ease with which they could climb up and down precipices and rocky crags that, in 1345, during a period of fighting and insecurity in the Kingdom of Mallorca, lichen gatherers were forbidden to work within less than half a league of the castles of Alaró, Pollença and Felanitx. This was probably because lichen gatherer Jaume Romeu was still remembered for having guided invaders up to Alaró Castle.
The lichen business was usually contractually regulated and the season lasted from January to Easter. In the case of Sa Dragonera, for instance, the Bishop of Barcelona (the Lord of the island) granted yearly licenses for lichen and falcon chicks to be collected from the island's cliffs. A 1410 order, sent to the Mayor of Andratx, stipulated that lichen was to be gathered at 'Ses Penyes Rotges' in Sa Dragonera. The owners of rural estates in Andratx and Pollença where this lichen grew also agreed on the conditions under which it would be harvested with its gatherers.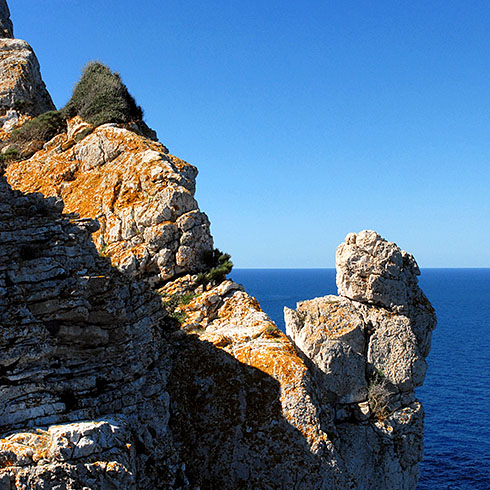 The cliffs, near Coll Roig, where this lichen can be found. © Photo: Gabriel Lacomba
The lichen gatherers could either sell it directly or transform it into powdered lichen, which was then bought by dyers, cloth traders and merchants for export to Barcelona, Valencia, Cotlliure, Niçe or Genoa. Northern Italy, where roccella lichen also grew, was an important cloth-dying centre at the time.
A violet or purple dye can be obtained from this lichen, called orchil. Marble workers used it to make bluish veins on white marble and, since ancient times, it has also been used to dye fabric, like the garments of high-ranking figures. During the Middle Ages, Palma's cloth dyers used it to dye the tunics (known as gramalles) of the Kingdom of Mallorca's councillors and magistrates. Orchil's advantage was that it could dye wool and silk purple without a mordant, and it was resistant to moths. However, given the stink that was created when orchil was made (a process using fermented urine), in 1381 cloth dyers were forbidden to have their workplace within the city walls. As a result, they had to move to Camp del Tirador, a 15th century early industrial area of Palma. A branch of the city's open water-supply network known as Canó dels tintorers (the Dyers' Pipe), which ran parallel to the Palma street Carrer dels Oms, supplied the necessary water for the craftsmen's work.
Roccella lichen was traded quite actively in the 15th century. Later, with the arrival of new dyes from America, like carmine or cochineal and logwood, it was used less and less in cloth dying, finally being replaced in the 19th century with synthetic dyes obtained from coal tar.
Text by Elena Ortega
Translated by Rachel Waters
Did you know that...
"Miraculous urine"
Although roccella lichen's properties as a colorant were known back in the times of the Phoenicians, its use was forgotten for centuries. In the 12th century, a Florentine wool merchant rediscovered its properties when, as legend goes, on a journey to the Balearics, he noticed that a small plant turned reddish when it was urinated on. (Other chronicles claim that this passage refers to the Canary Islands or the Orient). The merchant, known from then on by the nickname Oricellario in reference to the name of the plant, took good advantage of his 'industrial secret', coming to hold a monopoly over the dye, making a big fortune, and also acquiring a nobiliary title. The family saga continued with the dye business and one of its members, Bernardo, who became related by marriage to the Medicis. He commissioned the construction of Rucellai Palace and Orti Oricellario gardens, which were a meeting point for philosophers and writers during the Renaissance.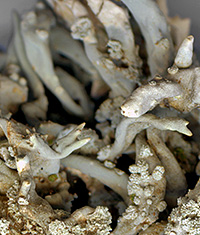 Serra de Tamuntana Consortium
Contact
General Riera, 113, Palma
(+34) 971 219 735
serradetramuntana@conselldemallorca.net