Serra de Tramuntana wine
Wine is a constant feature of the Balearic Islands' history and culture. According to historian Pau Marimon Ribas, the first wine in the Balearics dates back to the 7th century BC when the Phoenicians colonized Ibiza. From their settlements on Ibiza, the Phoenicians distributed wine to Mallorca and Minorca. According to Marimon Ribas, wine came to be a true Mallorcan cultural feature from the year 123 BC, with the Roman conquest and Ibiza's decreasing trade. Mallorcan wine was highly regarded by the Roman world, as Pliny the Elder testifies in his Natural History, where he compares Balearic wines with the finest of Italy's.
Wine producing did not come to an end with the Arab presence in Mallorca and it continued, without interruption, until the 19th century. The two main centres where it was and still is produced were Binissalem and Felanitx. Even so, for centuries the Serra de Tramuntana also produced a substantial amount of wine, and winemaking has recently been given a new boost there in a scientific and technological bid to reintroduce native vines and grapes and to improve the quality of the wine that is made, with the emergence of new businesses that have invested in the modernization of the sector.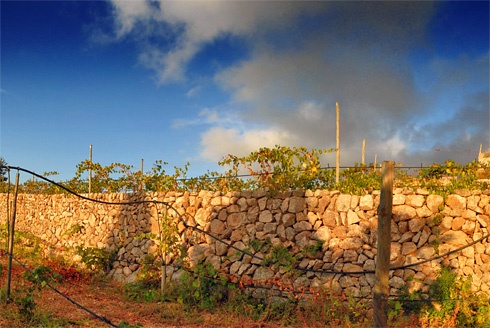 Malvasia vine stocks on Banyalbufar's hillside terraces, one summer day © Photo: Gabriel Lacomba
One of the biggest consequences of the introduction of grape growing and wine producing, in terms of the island's heritage, is the landscape's modification
When France was hit by a plague of philoxera in 1862, substantial amounts of Mallorcan wine began to be exported from the ports of Palma and Alcúdia during the final decades of the 19th century. In 1891, the appearance of philoxera in Mallorca put an end to this booming trade. In the Serra de Tramuntana, the plague had a particularly devastating effect, with the disappearance of local wines that had been very highly regarded in their time. The most representative case is that of Malvasia wine.
The first Malvasia vines reached the Serra de Tramuntana in about the 15th and 16th centuries, very probably from Italy. It was a highly valued grape variety, both inside and outside Mallorca. Archduke Ludwig Salvator is documented as having grown Malvasia grapes, and this wine is reported to have been drunk by European royal families, in bishop's palaces and by the well-off bourgeois classes. Philoxera, as commented above, led to its disappearance. In 1995, only one Malvasia vine stock remained. Thanks to the authorities and the efforts of some private individuals (the Cooperativa Malvasia de Banyalbufar), Mallorca's original Malvasia has been reintroduced, with its strong, fruity aroma, as an item of heritage and business proposition. Its reintroduction, which commenced in 1995, was a very complex process, facilitated by the association of owners of small vineyards, who united their harvested grapes.
Another company to launch a Malvasia wine on the market is Vinyes de Mortitx. This winery grows its own vines, making its wines in part of the old Mortitx rural estate, in the municipality of Escorca. The vineyards stand at an altitude of 400 metres above sea level, which is fairly unusual (in Spain there are few vineyards at this altitude), but in a place with sea breezes, naturally sheltered by the surrounding mountains. Vinyes de Mortitx produces different red and white wines, together with a Malvasia wine made with vine stocks imported from abroad.
One of the biggest consequences of the introduction of grape growing and wine producing, in terms of the island's heritage, is the landscape's modification. The stone hillside terrace walls typical of the Serra de Tramuntana, also used to grow other crops like olives, are a charismatic example. Hillside terracing was introduced during the island's Arab domination and, thanks to this technique, vines can be planted in steep areas of the Serra. These hillside terrace walls are now one of the most spectacular, highly esteemed features of the Serra de Tramuntana landscape.
Text by Jordi Martí
Translated by Rachel Waters
Did you know that...
According to publicity for the Vi de la Serra de Tramuntana-Costa Nord designation of origin, Malvasia wines have a very fruity fragrance, with a hint of pear and melon. Very dry, fresh and consistent, they stand out for their complexity and good structure. The grapes are long, the vine stock's trunk is medium in thickness, and the vines flower early, with the fruit ripening in mid August.

Other wines that also come under this designation of origin are white Chardonnay wines and red wines made of Cabernet Sauvignon and Merlot grape varieties. It is typical in Mallorca to use large amounts of local grape varieties combined with others from outside the island. This helps to make local grape varieties more widely known, thanks to the prestige of the foreign ones, particularly French and Italian grape varieties.
Barceló Pons, B. (1959). «El desarrollo del cultivo de la vid en Mallorca», in BCOCIN, 624, Palma.

Binimelis Sebastián, J. (1999). «Evolució recent, panoràmica actual i perspectiva de futur del cultiu de la vinya a l'Illa de Mallorca», in II Jornades d'estudis locals a Porreres, p. 5-16.

Etienne, R.; Lamour, C.; Mayet, F. (1982). Le vin des Baléares, Majorque, Languedoc et Roussillon: de l'Antiquité à nos jours. Actes du LIIIe Congrès de la Fédération historique du Languedoc méditerranéen et du Roussillon, Palma, 16-17 May 1980, Montpellier, p. 5-12.

Ferrer Flórez, M. (1999). «Vicisitudes agrarias. El cultivo de la vid en Mallorca (1800-1850)», in BSAL, 55, Palma, p. 249-280.

Marimon Ribas, P. (2005). «Comercio de vino entre el litoral peninsular de la Hispania Tarraconensis y las Insulae Baliares: evolución y coyuntura socioeconómica», in Sánchez León, M.L.; Barceló Crespí, M. (ed.), L'Antiguitat clàssica i la seva pervivència a les Illes Balears, Minutes of the 23rd Symposium on Local History Studies, Palma, p. 201-215.
Serra de Tamuntana Consortium
Contact
General Riera, 113, Palma
(+34) 971 219 735
serradetramuntana@conselldemallorca.net