The greek ship
She had not run on for long before there came a howling gale, a
tempest out of the west, and the first squall snapped both our
forestays, so that the mast toppled backwards and the rigging fell
into the hold, while the tip of the mast hitting the stern struck the
steersman's skull and crushed the bones. He plunged like a diver
from the deck, and his brave spirit fled the bones.

At that same instant Zeus thundered and hurled his lightning at the
ship. Struck by the bolt she shivered from stem to stern, and filled
with sulphurous smoke. Falling from the deck, my men floated like
sea-gulls in the breakers round the black ship. The gods had robbed
them of their homecoming
Homer. Odissea. Book 12
The great Ancient Greek poet thus described the sinking of a Greek ship, with almost cinematographic precision. If we heed literary history, Ulysses' gruelling return home to Ithaca occurred just after 1200 BC, and Homer must have written the Odyssey in about the 8th century BC. The extract that heads this article clearly illustrates how a shipwreck occurred and it is a good description of what must have happened to the Greek ship that hit the rocks in about 520 to 500 BC in one of Mallorca's northern coves, today known as Cala de Sant Vicenç in the municipality of Pollença.
The ship, with its cargo, remained on the lovely cove's sandy bed until 2002, when underwater archaeological excavations were carried out that year and the two following ones, thanks to an agreement between the Consell de Mallorca's Department for Heritage & Culture and the Catalonia Archaeological Museum's Underwater Archaeological Centre. Numerous experts and archaeologists took part in the work, led by Xavier Nieto. The research was very fruitful, with numerous highly positive consequences. Let us look at certain aspects of the results.
We know that it was a merchant ship travelling from the city of Emporium (Ampurias, on Catalonia's Costa Brava) or from Massalia (today Marseille, in France). The presence of a large number of Iberian amphorae reinforces the hypothesis that, after leaving port (in Emporium or Massalia), it sailed along the coast of the Gulf of Lion and the east coast of mainland Spain, crossing the Balearic Sea to the west coast of Mallorca. Travelling in a northeasterly direction, it reached Cala de Sant Vicenç, where it sank.
Research into this 6th century BC shipwreck has given us invaluable information about trading links with the Greeks
One of the archaeologists' conclusions is that the ship was heading for that same cove. Therefore it did not arrive there by chance, blown off course by a storm. This detail is very important because it provides hitherto unknown information: the existence of trading links (probably minor ones) between Phocaean colonies (Greeks who settled in Emporium, Massalia and other points in the northern Mediterranean) and local settlements with easy access to Cala de Sant Vicenç.
Obviously the cargo was of special interest when the shipwreck was analysed. Of all the material that was removed from it and studied, it was hard to be sure what was part of the commercial cargo and what belonged to the ship and its crew. Despite this, the cargo was ascertained to be very varied, no doubt meeting a widely assorted demand. Archaeologists found the remains of wine, oil, perfumes, metal tools, semi-finished metal products, weapons, widely assorted crockery for different purposes, and mills for milling wheat, among other things. The amphorae that were found seem to come from two big areas: Greece and Magna Graecia (southern Italy and Sicily), reinforcing the idea that northern Mallorca was on the northern Mediterranean trade route.
The sunken ship is in itself one of the most important treasures found during underwater excavations. It is a ship of about 20 to 22 metres in length, built using a system in which the outer shell was joined with pegs and sewn in place. This represented a big technological development back then. The ship is thus the biggest Greek ship built with this technique of all those known to date, with a capacity for carrying a cargo of about thirty tons.
The ship is thought to have reached Cala de Sant Vicenç and anchored there. Everything seems to indicate that once it was anchored, facing toward the wind, it came loose in a storm (the anchors were not found during the excavation work). The waves pushed the ship toward semi-submerged rocks in front of Cala Barques beach, where a hole of about one metre was made in the bow. The ship was at the mercy of currents in the cove, first staying semi afloat and then sinking to where it was found 2500 years later.
The excavation and analysis of the Cala de Sant Vicenç shipwreck represent a big step forward for archaeology in Mallorca and for our knowledge of sailing in ancient times. Above all, it has provided invaluable information about links between people in north Mallorca in the 6th century BC and Greek traders. Going back to Homer's words at the beginning of this article, what happened to the ship's crew? Did any of them reach the shore? And the helmsman? Did he end up with his head still in one piece? We will very probably never know.
Text by Bartomeu Homar
Translated by Rachel Waters
Did you know that...
Research has demonstrated, albeit in an approximate way, what the ship's crew ate. There were relatively few of them, very probably a maximum of half a dozen people. Their diet was possibly based on grain, complemented by oil, wine, spices, pulses, fruit, nuts, honey, and pickled or salted meat or fish. In the shipwreck, mortars were also found for milling grain and grinding food, together with various other recipients, and even small braziers for heating food and the remains of a a bell-shaped pot that was almost certainly used for cooking.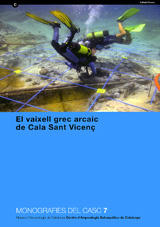 El vaixell grec arcaic de Cala Sant Vicenç

An extensive work with the participation, in addition to the authors, of some thirty experts in boat building, sailing in ancient times, and different aspects of underwater archaeology.
It offers an in-depth description of excavations carried out at Cala de Sant Vicenç, together with interesting studies in different fields, particularly boat building and ancient ceramics. Each chapter ends with a set of conclusions, making it easier for laymen to understand.
Authors: Xavier Nieto and Marta Santos
Published by: Museu d'Arqueologia de Catalunya - Centre d'Arqueologia Subaquàtica de Catalunya, with the collaboration of the Consell de Mallorca's Department of Heritage and Culture and the Regional Government of Catalonia. Girona, 2008.
Serra de Tamuntana Consortium
Contact
General Riera, 113, Palma
(+34) 971 219 735
serradetramuntana@conselldemallorca.net