Cinema and the Serra de Tramuntana
The Serra de Tramuntana's spectacular scenery has attracted numerous filmmakers. The steep slopes lined with rocks, olive trees, and towns and villages looking out, from a distance, to the sea captivate all visitors, but particularly those visiting the Serra in search of evocative outdoor film locations. Maybe there have not been as many major films shot in the Serra de Tramuntana as such a special landscape really deserves, but several have been filmed there and they are worth remembering.
One of the first was the film El secreto de la pedriza (1925), directed and starred in by Francesc Aguiló. Recently restored by the 'Sa Nostra' Foundation, the film, which focused on the theme of smuggling, was shot at Sa Foradada, Torrent de Pareis, and Son Marroig, among other legendary spots in the Serra de Tramuntana.
Most of the films shot in Mallorca in the 1960s and 70s had rather inconsequential plots, aimed at promoting tourism to the island. They fostered an image of sun and sand that is still associated with Mallorca, with just a few exceptions. One of the most outstanding, given its bitter criticism of popular customs, was El verdugo (1963) by García Berlanga. Another noteworthy film, shot in locations in the Serra de Tramuntana like Son Moragues and Valldemossa Monastery, was Un invierno en Mallorca (1969) by Jaime Camino about Chopin and George Sand's stay on the island. It was not a commercial film, given its sober aesthetics. It should also be noted that, unusually at the time, some of the dialogue was in Mallorcan.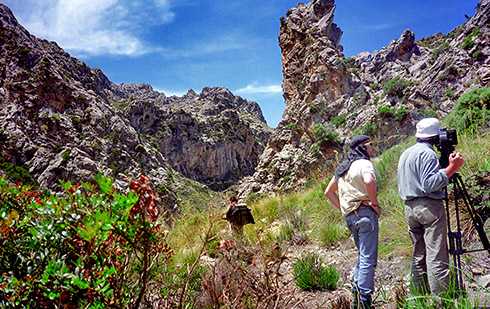 The filming of Bert near Ariant in Pollença. Archives of Lluís Casasayas
Raixa rural estate is one of the most commonly chosen film locations and one of the Serra de Tramuntana's most emblematical attractions
One of the most commonly chosen film locations, Raixa rural estate, also stands out as being one of the most emblematical places in the Serra de Tramuntana. Cinematographically, Raixa is inextricably linked with the film Bearn (1983) by Jaime Chávarri, based on a well-known novel by Llorenç Villalonga. Bearn was a high-budget film for the time, featuring a very well-known group of actors (Imanol Arias, Fernando Rey, Alfredo Mayo, Amparo Soler Leal and an Ángela Molina not really in her element in the role of Xima). The film premiere, which aroused great expectation, was held at the Auditorium in Palma on April 8th1983. The slogan used as publicity for the premiere was "There is no paradise but a paradise lost". Raixa's gardens offered a superbly evocative backdrop, recreating the plot's decadent atmosphere: the decline of an aristocratic family, fallen on hard times. It varied in its commercial success outside Mallorca and generally critics at the time considered it to be a film that could have been much improved.
According to the minority who have seen it, Bert (1998), by Mallorcan director Lluís Casasayas, is quite an interesting film. Filmed entirely in the Serra de Tramuntana, it tells the story of the main character's obsession with finding a friend who has disappeared in the Serra. With Fermí Reixach as its star, the film also features Mallorcan actor Simó Andreu and Mercè Sampietro. It was premiered for the first time, to great acclaim, at the Malaga Spanish Film Festival. In the same year, 1998, it won the prize awarded by the jury and audience of the Cadiz Atlantic Film Festival, together with the Barcelona International Alternative Film Festival award. Due to disagreements between the producer and the Spanish Ministry of Culture, the film was not commercially launched, thus transforming it into a cult film.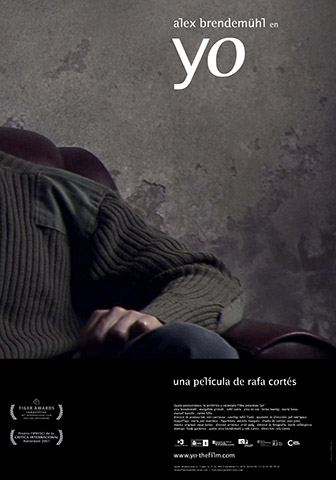 Another Mallorcan director who has recently taken advantage of the Serra de Tramuntana as a backdrop for his first film is Rafa Cortés. His film Yo (2007), featuring Alex Brendemühl and other mainly non-professional actors, was shot in a large part of Estellencs. Singled out for awards at Cannes, Rotterdam and Malaga, the film is based on a personal experience by its director at the village's local festivities, when a German resident suddenly burst onto the scene with cuts on his arms. All the film's scenes feature Hans, played by Brendemühl; a character who feels excluded by the local villagers, who still badly miss a former resident of the same name and nationality. The director reflects on one central idea: that it is not so interesting to be yourself. Alex Bremdemühl puts it this way: "Maybe by being someone else, you feel happier."
Text by Jordi Martí
Translated by Rachel Waters
Did you know that...
Many foreign films have taken advantage of the Serra de Tramuntana's scenery. One example is Evil under the Sun (1931) by Guy Hamilton, based on a novel by Agatha Christie and starring Peter Ustinov, Jane Birkin, James Mason, Maggie Smith and Roddy MacDowall. Filmed at Raixa, Cala Fornells, Formentor and Cala de Deià, it was supposedly set on an island in the Adriatic.

Raixa has not always been fortunate as a cinematographic backdrop. Vicente Escrivà's mediocre film Sin un adiós (1970), starred in by Rafael (who, as usual, played himself) and Leslie Ann Down, was filmed at Raixa, Formentor, Valldemossa Monastery and Barbarella discotheque.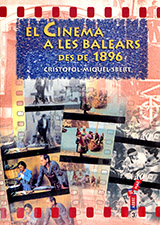 The most comprehensive monographic work on films made and/or set in the Balearics (and, logically, the Serra de Tramuntana) is Cent anys de cinema a les Illes, with articles by different authors. Coordinated by Catalina Aguiló Ribas and Josep Antoni Pérez de Mendiola, it was published in 1995 by the Obra Social i Cultural de "Sa Nostra".

Another very well-documented monographic work is El cinema a les Balears des de 1896 by Cristòfol-Miquel Sbert, published in 2001 by Documenta Balear.

Both books include statistics, stills from the films commented on in them, and posters from the period. Sbert's book takes a more sociological approach and makes an in-depth analysis of the evolution of cinemas, audience tastes, film premieres, and censorship.
Serra de Tamuntana Consortium
Contact
General Riera, 113, Palma
(+34) 971 219 735
serradetramuntana@conselldemallorca.net